BY JOSH ROGERS  |  People on Vesey St.  were stopping to click their phone cameras at a rate of 10 or so a minute Monday, the first day office workers came to the new One World Trade Center.
More of the area was open, and in many ways it seemed like a new day at the W.T.C., where over the post-9/11 years, chains have been used to manage the crowds forced to circumvent the area.
But is the building finally open?
"Not to the public it isn't," an N.Y.P.D. officer told me in a friendly tone.
A public opening will perhaps be in the spring when One World Observatory starts welcoming visitors looking for views of Lower Manhattan and beyond.
So far, only about 175 Condé Nast employees have started working at One W.T.C., which many still call the Freedom Tower, the name used long before the building was even designed. Thousands more office workers are expected to come next year to the tower, which is a symbolic 1,776 feet high if you count the spire on top.  
The opening on Mon., Nov. 2, 2014, came a week after the first office workers started going to 4 W.T.C.
"I would say 'yeah' with an exclamation point at the end," said Ro Sheffe, a Lower Manhattan  resident who heads Community Board 1's Financial District Committee. "We've been waiting for 13 years to have these buildings open."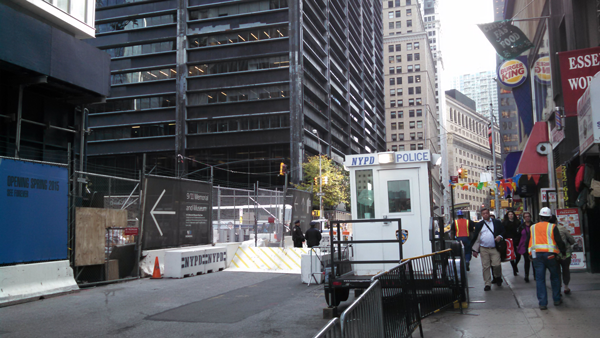 Liberty St. security
The reopening of 4 W.T.C.  to  Port Authority personnel Oct. 27, ironically, also meant there was less freedom on Liberty St., since most vehicles are no longer able to get through.
Cars and trucks doing business at the W.T.C., or making deliveries to Liberty St. residents or stores, or carrying residents are permitted with proper ID.  People visiting residents on the block west of Church St. are also permitted to drive through after a short stop at the checkpoint.
"It doesn't look good," Steven Abramson, a Liberty St. resident, said of the police barricades. "It's not pleasant, it's ominous. On the other hand as they said 'you're living in this gated community.'  Baring any terrorist activity you have probably the safest street anywhere."
"It's not pretty by any means, it will be in the future,"  Dep. Inspector Kevin Burke, commanding officer of the N.Y.P.D.'s World Trade Center Command, said at a Community Board 1 meeting Wednesday night.
"There's hope on the horizon," he added. "We're almost there."
Burke said he thought by this spring, there would be better looking barriers.
C.B. 1's Pat Moore, who lives nearby, said she's heard from some neighbors who have been turned away when they try to drive through.
Managers at the handful of shops on the block for the most part said the security changes have not made an already difficult situation of doing business there any worse.
Abramson and his neighbor David Stanke both said the sidewalk barriers are exacerbating the Liberty St. pedestrian congestion problem.
"It makes things more densely packed, but everything seems like it can be worked out with a few adjustments here and there," Stanke said.
Abramson said firefighters at the Ten-Ten firehouse on Liberty are no longer permitted to park their personal vehicles on the block. 
Officials with the city and the Port, which owns the W.T.C., met with community leaders Oct. 23 to go over the last details of the W.T.C. "Campus Security Plan" which took effect Oct. 27, but has been in development now for many years.
"This is another milestone in transition from construction to occupancy at the site," said Erica Dumas, a Port spokesperson. A city official who briefed Downtown Express on the plan Oct. 24 gave an almost verbatim statement — one of several indications that the city and Port are working closely together on the W.T.C. years after many well-chronicled disputes over security and financial issues.
The city official said although residents in cars have to show ID, that short slowdown is counterbalanced by the fact that there is less traffic on Liberty now that cars and trucks are no longer able to use it as a through street.
In addition, Cedar St. traffic has recently been reversed to flow west, and Washington St. south of the W.T.C. was reopened to traffic.
Residents were going to have to register for the W.T.C.'s Trusted Access Program annually in order to drive through the site, but officials decided it would be less cumbersome for them to just show ID each time.
Abramson is most pleased that tour buses visiting the 9/11 Museum are no longer driving down Liberty St. dropping off passengers.
Abramson, his neighbors, and Community Board 1, have all said that when the 9/11 Museum opened in May, and Liberty St. was reconnected to Battery Park City, it led to a crush of pedestrians, and officials have been working since then to relieve that problem.
Before the plan went into effect, the Port's Dumas said companies like Fresh Direct would be able to register trucks and drivers to deliver groceries on the block and even "a guy and a van" delivering furniture would be able to get through if a resident makes arrangements.
She described the early months of the program as a "grace period" when everyone finds out what works best and how to improve the system.
Monica Klein, a spokesperson for Mayor Bill de Blasio, said: "The city is committed to balancing security needs with residents' quality of life, and will continue to work closely with local businesses and residents to ensure the Campus Plan is minimally disruptive to their daily routines."
More Freedom
by the Tower
There is now more access at the north end of the W.T.C. A wider section of the west end of Vesey St. opened near One W.T.C. this week.
This followed a widening of the east end a few weeks ago, relieving the pedestrian-commuter crush, this newspaper dubbed the "Vesey Squeezey." West St. by the Trade Center is also open, and the powers that be have taken notice.
"We went through a construction war zone for years.…Having worked down here for quite a long time to now walk from Brookfield Place over to Church St. it's gotten quite a bit better," Dennis Friedrich, the C.E.O. of Brookfield Office Properties, said Wednesday at a panel discussion on Lower Manhattan.
Friedrich's firm owns Brookfield Place, formerly the World Financial Center, which is across the street from the W.T.C.
"We are closer than ever to truly reintegrating this site back into the fabric of Lower Manhattan," Assembly Speaker Sheldon Silver said in a statement.
And then there's the buildings.
"I like the entrance with the colors," said Belgian tourist Isabel Van Hecka.
She and her boyfriend had just snapped pictures of the Freedom Tower.

— with reporting by  Dusica Sue Malesevic